Make & Receive Calls through your CRM
Easily place and answer calls from within your CRM instead of switching platforms. All numbers within the CRM have clickable links. So, with click-to-dial, teams can call customers with just one click, improving efficiency.
Centralize Communications and Save Time
Agents can save time by quickly accessing our softphone in the CRM. Create new contacts, track leads and opportunities, and resolve tickets while on call. Always be on the same page as your customers.
Log Calls Automatically
With two-way synchronization, make important notes and track opportunities by logging your calls with the associated account in the CRM. Edit your notes and contact records to update all customer interactions in real time.
Review Call History and Recordings
Need to review past conversations? Or evaluate call traffic? Access call history, customer notes, recordings, and more to get a full view of caller interactions. Managers can easily see call activity between leads and sales or support reps.
Access International Calling
Establish a local presence and connect with customers in over 200 countries with international phone numbers from more than 150 countries. View the available countries on our Country Coverage page.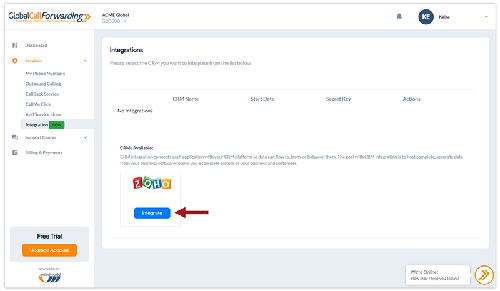 How to Use the Zoho VoIP Integration?
To use the Zoho CRM extension, you need to be an existing customer of United World Telecom and must activate the option for Zoho VoIP integration in your control panel.
All you need to get started is:
United World Telecom Basic or higher plan.
Zoho CRM extension, activated via the UWT control panel.
Zoho CRM subscription.