Businesses of every type and in every industry need good customer relations to keep themselves afloat. Whether it is by recruiting new clients or improving customer care for existing ones, your business should always look for ways to strengthen business relationships. Outbound calls are one way to ensure good communication between your business and its prospects, customers, vendors, suppliers, etc. Here is an in-depth guide to outbound calling and its tremendous benefits.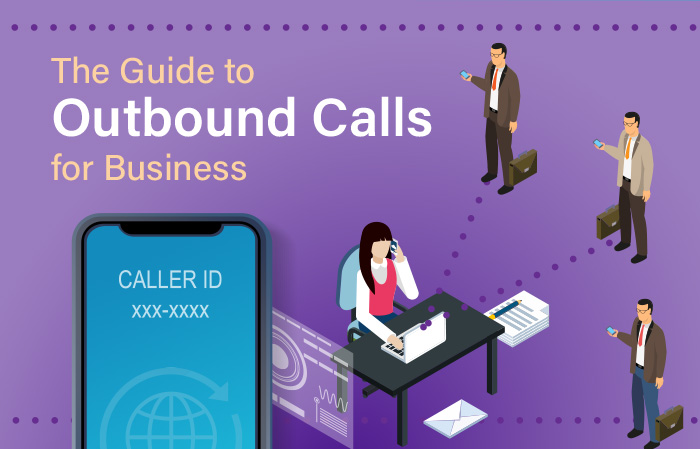 ---
What are Outbound Calls?
Outbound calls are outgoing calls made from a business to its customers, clients, vendors, supply partners, and more. Outbound calls are used by sales and marketing teams, customer support and success teams, telemarketers, appointment setters, and more. Businesses use various cold-calling or outbound calling strategies to bring aboard new customers while retaining current ones.
Outbound calling is generally considered a call center service. However, advancements in telecommunications have made it possible for businesses of every kind to place high-volume outbound calls through an in-house team. Virtual phone service providers like United World Telecom offer this service along with their virtual phone number plans. Use your own sales, marketing, and customer service team to increase sales and customer retention rates.
What is the Difference Between Inbound and Outbound Calls?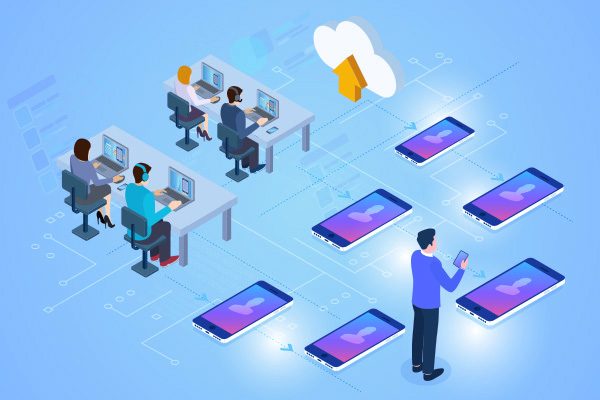 Business communication is comprised of two types of communication: inbound/incoming and outbound/outgoing. Inbound calls or "hot calls" are calls made from a customer or interested party to a business. This could be to inquire about a product or service, seek customer support or troubleshooting assistance, initiate a partnership, etc. For example, an interested prospect has browsed through your website or social media accounts and found something they could use. They then call your business to initiate a sale and make a purchase.
Outbound calls, on the other hand, are cold-calls made to a predetermined list of promising prospects. These prospects may include a target demographic, ideal business partners, potential vendors to work with, and so on. The list may also include your current customers that employees can follow up with, collect feedback, or inform about new products and services. This type of customer service is more proactive as you are connecting with customers before they call you.
How Does an Outbound Calling Service Work?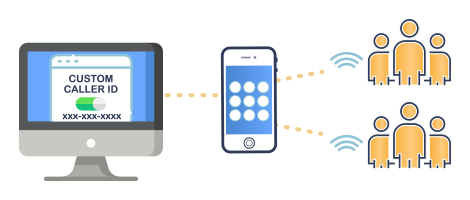 An outbound calling service is a premium service offered by virtual phone service providers. As such, the service works alongside your VoIP phone system to enable your team to make and receive calls via the internet from any location and device. Additionally, incoming calls can also be routed to any number or device of your choice through an international call forwarding service.
When you purchase this service, you can install a web dialer and use it to place local and international calls. You can even customize your caller ID to display a purchased number to match the location you are calling. For example, even if your business is located in New York, you can display a Texas number when calling Texas or a Singapore toll free number when calling Singapore. This way, recipients are more likely to answer your call as they will recognize the local or toll free code.
With this service, your business can contact local and long-distance prospects and customers for reasonable calling fees. You can expand operations to different states and countries by creating a local, "virtual" presence without opening a field office. Plus, when these customers call you back, they will be dialing a local or toll free number instead of an international number, saving costs.
What is a Dynamic Caller ID?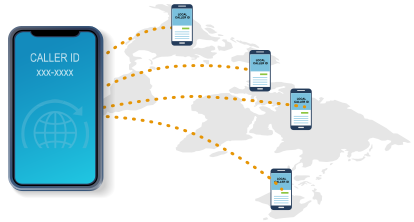 A dynamic caller ID or customizable caller ID is an outbound calling feature. This feature enables businesses to display a number of their choice as their caller ID when contacting prospects and customers. And so, your business can display another city, state, or country's local number or a toll free number when contacting individuals in that location. This increases the likelihood of your call being answered as it won't be displayed as an "unknown" or "private" number.
Additionally, this makes it easy for these individuals to call you back as they would be more comfortable calling local or toll free numbers instead of an international number. And so, if your business has an international clientele or is looking to expand globally, an outbound calling service can come in very handy.
To use the dynamic caller ID feature, however, you will need multiple virtual phone numbers. Some providers offer you a list of predetermined numbers as part of your plan. With other providers, you will have to buy or add numbers of your choice to your virtual phone number plan.
How Can My Business Make Outbound Calls?
To make outbound calls through your outbound calling service, you will need a web dialer installed. Providers will offer you a smartphone app, web dialer, chrome dialer, CRM integration, or softphone application which you will need to download and install to make and answer calls.
An outbound dialer is a dial pad that imitates your smartphone keypad. Additionally, it will provide you the ability to create and save contact information such as name, number, address, email, etc. And also let you save call notes to create a history for each contact. Other features include checking your voicemail, updating information, changing your caller ID, and more.
To make successful outbound calls, train your team to use effective cold-calling strategies to gain and retain essential clientele. This includes:
Adopting a positive attitude
Using a natural script and not being monotonous
Customizing and personalizing the interaction
Offering solutions based on customers' needs
Actively listening to what the customer has to say
Using customer feedback to improve, and so on
Train your employees and agents to meet the standards set by your company when reaching out to new prospects as they will be the first stage of contact between these contacts and your business.
Why is Outbound Calling Important?
An outbound calling software or service can greatly impact the way your business interacts with customers and prospects. You want new prospects to know your business matters and current customers to know your business cares about them. And by making your business accessible and reaching out to them easily will help you build that reputation. With an outbound calling service, your business can:
Expand operations globally
Create a local presence in various target markets without relocating or opening new field offices
Improve the visibility and awareness of your business and brand
Offer proactive customer success and customer support and create stronger business relationships
Record outgoing business calls to protect against liabilities, train new employees on successful interactions, conduct performance reviews, and improve quality assurance.
Which Businesses Need
Outbound Calling?
From small businesses to large enterprises, pretty much every type of business can use outbound calling to improve their sales and customer relations. Besides business size, companies across various industries that have a high outgoing call volume or that depend on their sales calls to make a profit can use this service. These companies and industries include:
Financial and banking services
Marketing and advertising agencies
Healthcare, pharmaceutical, and medical services
Travel and tourism companies
IT services
Telecommunication
Appointment setting services
Customer feedback generation
Media and communication agencies
Business process outsourcing (BPO) companies
Wholesale retail services
Consulting services
Sales and telemarketing services
Automotive companies
Insurance agencies
Restaurant and food services
Transportation companies
Educational businesses