When your organization is looking to influence local politics, it's important to have a local presence to reach certain states / counties / districts / townships. That's where local phone numbers for political ad campaigns can be vital towards helping change local policies and elect sympathetic politicians to your cause. In this article, we'll cover what local phone numbers for political ad campaigns are, the benefits of using them, and how to get them from United World Telecom.
What are Local Phone Numbers for Political Ad Campaigns?
To understand local phone numbers for political ad campaigns, you must first know how virtual phone numbers function. Assisted by cloud computing, virtual phone numbers are phone numbers that can quickly access nearly any market in the world. By using the fast connectivity of the Internet, calls can be made seamlessly and can be set up to have the same area codes that local residents are familiar with. Furthermore, these phone numbers enable political organizations to have a local presence, even if they are located in a different city, state, or country altogether – which makes them perfect for national political organizations headquartered in other places.
These phone numbers enable callers in different locations to contact your campaign without having to dial outside of their country, incur long-distance fees, or face service blockages by their service providers. It's for these reasons that local phone numbers for political ad campaigns are a smart decision to increase the likelihood of reaching voters.
What are the Benefits of Local Phone Numbers for Political Ad Campaigns?
Local phone numbers for political ad campaigns come with many benefits that can help enhance your aims and lead to a more successful outcome.
Targeting specific markets is perhaps the greatest benefit of local phone numbers for political ad campaigns. Because voting districts are often organized around area codes, you can use phone numbers to help persuade voters by phone and provide an authentic local appearance. United World Telecom offers local phone numbers for political ad campaigns in more than 140 countries and countless cities around the world. By matching local area codes, your organization becomes more appealing and thus more influential.
Local phone numbers for political ad campaigns can also make your organization more efficient due to the routing capabilities. For instance, your organization can provide multiple local phone numbers, which are all redirected to a main call processing center. This simultaneously increases the reach of your campaign, aggregating all inquiries to the same source. Compare this to establishing a branch office in each location and you'll quickly see how this can reduce costs.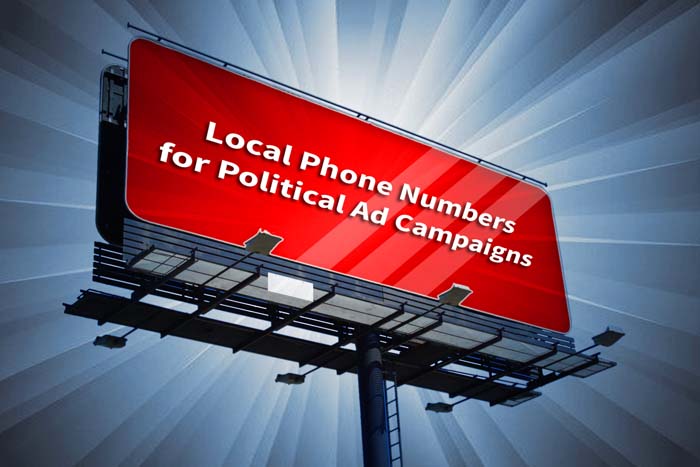 Local phone numbers are also available as another type of phone number: vanity phone numbers. Considering that these phone numbers will be used for political ads, it helps to make those ads more effective by incorporating a phone number with a visually appealing set of digits that can be tied into a particular political effort. As an example, having a phone number with digits that correspond to a candidate's name or the main idea behind your campaign can increase the awareness for voters.
Another key benefit of using local phone numbers for political ad campaigns is the large number of add-ons that United World Telecom offers in conjunction with regular telecommunication service. For instance, using time of day routing enables your organization to redirect inbound calls to various destination numbers depending on the time of day that the call is placed. You can redirect calls that occur outside of regular operating hours to another call processing center to ensure that each call is answered fully. Another popular add-on is using a PBX, or Private Branch Exchange, to create a directory system that enables callers to find recorded information or dial an extension to the appropriate department of your organization.
How to Get Local Phone Numbers for Political Ad Campaigns from United World Telecom
Now that you are aware of the many benefits that local phone numbers bring to political ad campaigns, let's cover the simple process how to buy a local phone number from United World Telecom.
Beginning at www.unitedworldtelecom.com, the homepage of United World Telecom, you'll notice a series of dropdown menus at the top of the page when it is fully loaded. Organized under two headings, you'll select the country code of your desired phone number beneath the first heading, "Select Your New Phone Number." Beneath this, you'll be prompted to select the phone number type; for this example of local phone numbers, you'll want to select the appropriate geographic region. Once selected, a submenu will appear with a list of cities and regions to choose from. Once chosen, you'll either be given a choice of phone numbers to select or a phone number will be provided upon activation.
Next, you'll enter in your destination number beneath the heading "Enter Your Destination Number." Once completed, click on "View Rates & Try for Free."
Then, you'll be presented with various payment plans to choose from. Select the one appropriate for your needs. Below this, there are a series of add-ons to choose from by clicking on the corresponding checkboxes. Once selected, the remaining process is straightforward, where you'll enter in contact information, billing and payment details, and verify your order (with the option to select more local phone numbers as needed). Then, review the Terms & Conditions and submit your order. Once submitted, a customer service agent will contact you within 24 hours to help you start using your new virtual phone numbers immediately.